1.5m Retractable RJ45 Network Cable 5ft
China 1.5m Retractable RJ45 Network Cable Manufacturer, Factory and Supplier

Retractable CAT5e networking cable allows you to connect your notebook computer so you can access
high-speed networks or the Internet anywhere you go. Compacted size and enhanced functionality make
it the ideal accessory to include inside your laptop case. The flat cable design allows the cable to wind
inside the reel, eliminating messiness and tangling.
Ideal computer accessory!
100% Brand New High quality Ethernet Retractable LAN Cable.
Use this retractable 10/100 Ethernet cable to connect your computer to a network or to another computer.
Simply pull to expand cable to about 1.5 M.
Keep your desktop or laptop free of cable clutter with this portable cable while on the go.
Connect to any hubs, PC or laptop for instant network connectivity.
Easy to carry; ideal for travelers, no more tangled cable mess.
Compact design and light weight for traveling
Support the 10/100 Ethernet Network
1.5m Retractable RJ45 Network Cable is Great for laptop users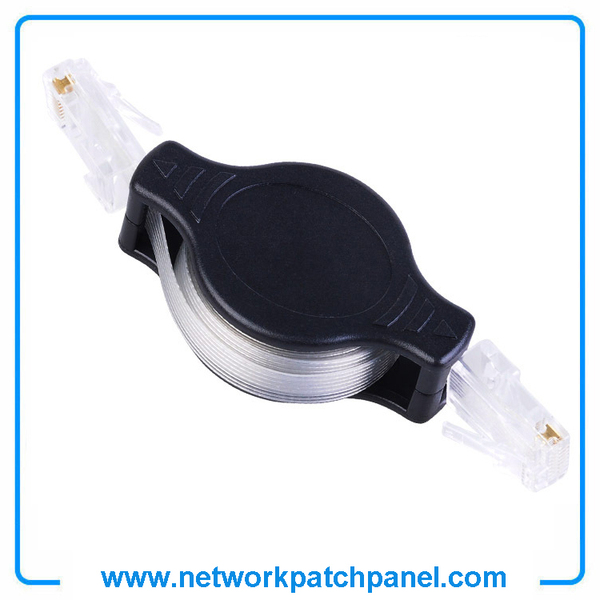 Features:
1. High quality Cat5 RJ45 Ethernet Patch LAN Network Cable
2.Light weight for traveling
3.Connect PC or laptop for network connectivity
4.Retractable design can avoid the trouble of tangle, space-saving.
5.Cable Comes with RJ-45 connectors on each end ,standard RJ45 8P8C plug
6.Support Network Speed: 10 to 100 Mbps automatically
7.Just pull out and you can get as long as 1.5 meter Ethernet cable
8.Retractable 1.5M Network Cable
9.Compatible with: BT Broadband, NTL, DSL, Cable Modem
10. Compliance Standards: EIA/TIA-568B Category 5e
11. Connector(s): 1 x RJ-45 - male
12. Connector(s) (Other Side): 1 x RJ-45 - male