19 inch Standard Rack 6 Gangs 6 Ways Overload Protection German PDU Sockets for Cabinet
PDU socket Supply power from one plug to multiple pieces of equipment, conveniently powering rack-mount equipment. Saves time and money during installation by using one plug wire and standard connections.
A PDU is a professional socket used to provide electrical power to equipment around the home or office;
particularly where the equipment is too far from an electrical socket or where additional outlets are required.
Power distribution unit (PDU) socket is a device fitted with multiple outputs designed to distribute electric power, especially to racks of computers and networking equipment located within a data center. Data centers face challenges in power protection and management solutions. This is why many data centers rely on PDU monitoring to improve efficiency, uptime, and growth. The PDU socket is easy and convenient installation for 19" standard and various Non-standard installation. Its multiple function module design including outlet module, control module, anti-thundering module,guarding against electricity.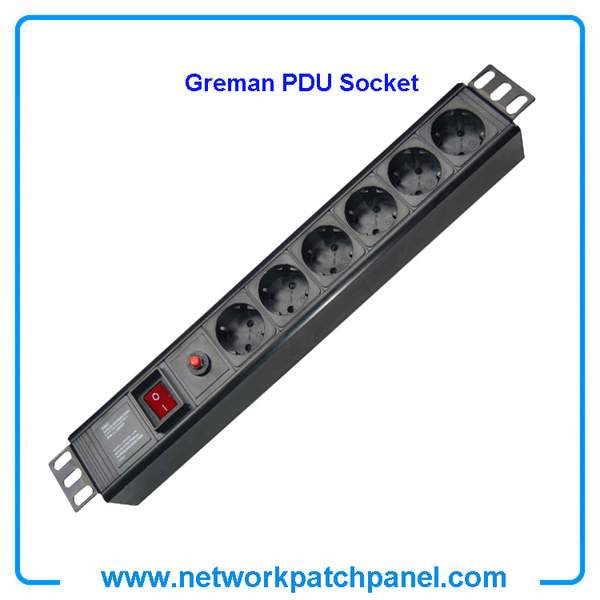 1. Features
19" 1U/1.5U standard PDU socket, with leak-current protector
Aluminum-alloy shell,made from block burn PC
Guage: 3G 14AWG power cord +german plug
According to customer request, we could add AC or DC display
Color: Black
Children safety protection (optional)
Breaker protection, and fused.
2. Specifications
Output type: DIN49440
Cable: 3G*1.5mm2*2m
Plug: DIN49441
Shell: Aluminum alloy
Color: White/Black
Install: Horizontal
Max current: 16A
Voltage: 250VAC
Control: ON/OFF switch
Protection: ON/OFF switch